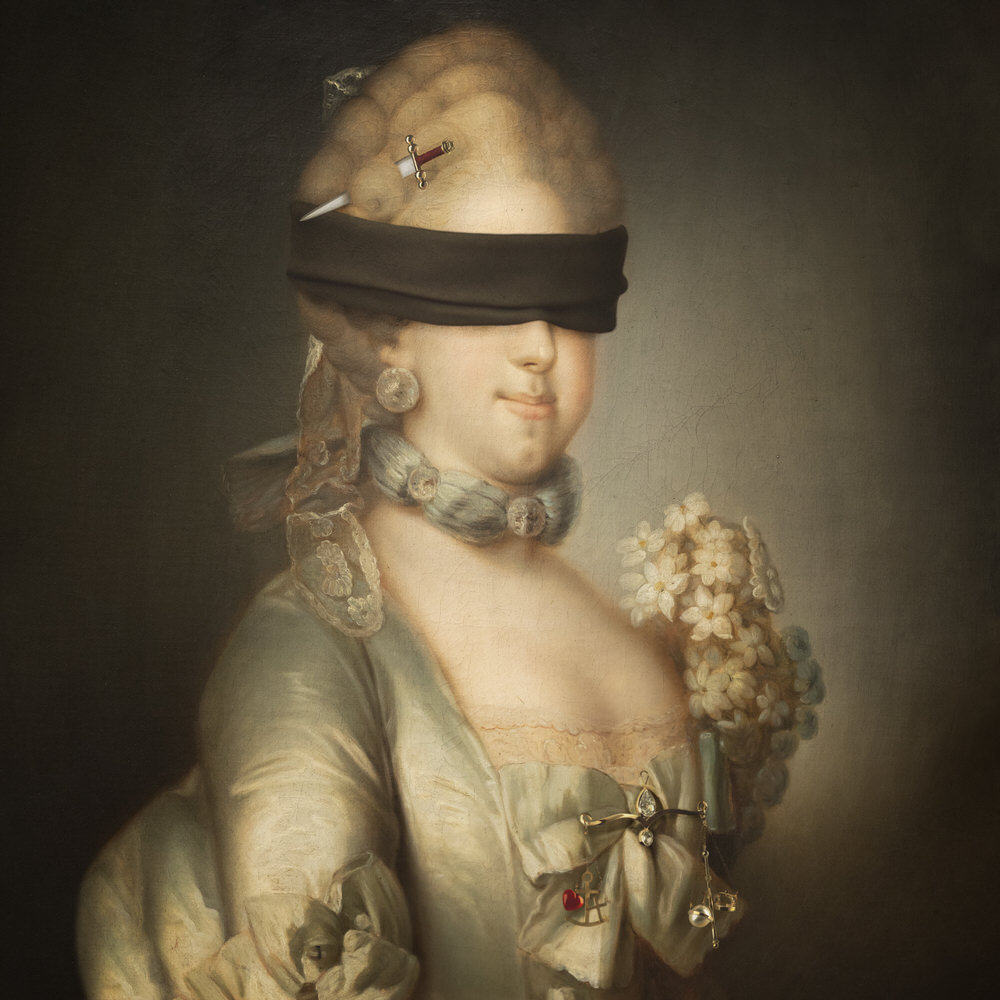 For the event "City of Jewellery 2019", which had the theme 'Worthy of a Queen', goldsmith Bodil Binner chose to work with Queen Caroline Mathilde (1751-1775) as her muse. "I chose her, because Caroline Mathilde's personal history is iconic. She arrived in Denmark at the tender age of 15 years, to be married to the Danish King Christian VII (1749-1808), who was completely crazy. However, he was the sovereign who awarded the Herrnhut church the city Christiansfeld, for which I make my star candlestick holders and earrings", she says, explaining her own added connection to the particular royal couple chosen.
Bodil Binner's allegorical piece bears the title "Love Blinds All" which is comprised of three parts: A blindfold, a sword and Justitia's balance, the attribute of the Roman goddess of justice – symbolising that petty cares are not allowed to influence the law and legal convictions.
The blindfold illustrates, that love made Caroline Mathilde (temporarily) blind. Hun fell madly in love with Struensee (1737-1772), the King's personal physician, he reciprocated her love. With the King as their third wheel, they made up an involuntary but very high-profiled menage-a-trois.
The sword is the symbol of the executioner's sword – Struensee was sentenced to death by decapitation.
The balance has three symbols having from each side of the scale. On one side, the symbols of "faith, hope and love" represent the romantic and youthful girly dream of Caroline Mathilde for a life filled with true love – on the other side, an orb, a sceptre and a crown signify the king's authority in the secular world. On the scale, the two sides balance each other out perfectly. However, in the end, the King used his power to have Struensee executed and Caroline Mathilde exiled to the castle in Celle, Germany, where she died of illness at the age of 23 years.
With a blindfold, Caroline Mathilde chose to close her eyes to the realities of her day; her relationship with Struensee would or could never have been accepted. In her hair, the sword is prophesy of the death sentence executed over her lover. The King's personal physician was unfortunately politically naïve, and too many advisors in the King's retinue had an interest in preserving the status quo. On the bodice of the Queen's dress, the brooch is seen – its equilibrium is guaranteed and calibrated by two yellow diamonds, the hardest mineral on earth – but the love did not last forever, even though it may give that impression, as reflected in the yellow nuance of the gemstones.
Materials
Blindfold made of black silk
Sword made of 18 karat gold, an oval-cut yellow diamond of 0.34 carat, stainless steel and coral-red silk cord
Balance, scepter, anchor, cross, and crown made of 18 karat gold, a heart of coral, a white Akoya cultured pearl, a drop-shaped yellow diamond of 0.88 carat and an oval-cut yellow diamond of 0.32 carat
Portrait of Caroline Mathilde, ca. 1767 – a year after the young Queen was married to the Danish King. The painting is usually attributed to the Danish painter Peder Als (1727-1776), who painted numerous royal portraits